TRADITION RETURNS TO CHINATOWN(24 Nov 2001): BG Yeo (centre, facing forward) with cast members of Jing Ke The Assasin. Behind him is Mr Kwek Leng Joo, president of the Singapore Chinese Chamber of Commerce and Industry, which owns the Sun Yat Sen nanyang Memorial Hall. The opera raised more than $500,000 for the refurbished memorial hall.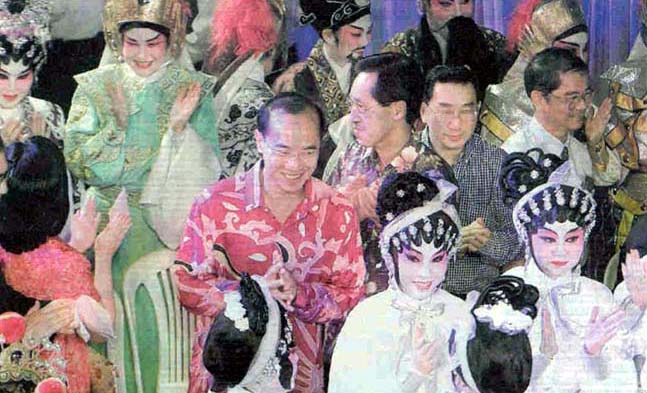 TRADE and Industry Minister George Yeo watched a Cantonese opera at the former Lai Chun Yuen theatre in Smith Street last night and said he hoped to see more cultural performances there. It was the first time an opera had been staged there since the theatre was destroyed during World War II.

Brigadier-General (NS) Yeo was guest of honour at the fund-raiser at which Jing Ke The Assassin was performed by the Chinese Theatre Circle. After the show he described the theatre, restored about three years ago, as 'a little jewel box in Singapore'. It is now occupied by the Buddhist Tzu-chi Foundation.

The original theatre was built in 1887. BG Yeo said it was preserved for heritage and he hoped more Singaporeans could enjoy cultural performances there. Attended by more than 200 guests and donors, the opera raised more than half a million dollars for the Sun Yat Sen Nanyang Memorial Hall, which the minister visited last week. It was Chinese revolutionary leader Sun Yat Sen's temporary headquarters in South-east Asia, and four galleries there tell Dr Sun's story.